Boy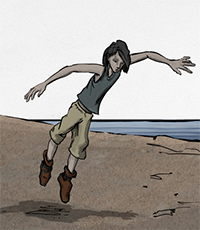 Each morning he heads out to catch fish for his family until one day a bird arrives with a strange offer: he will teach the boy how to fly for a fish! But flying can be dangerous for strange reasons. And why only a fish?
Seven Stories About A Mysterious Island
This collection of seven nautical fables is an interactive fiction (for tablet computers) and a limited-edition leather-bound book (for coffee tables). Each fable is illustrated with 3-5 paintings and a moral which the reader may find at their own risk. Published in both English and French, the fables are contemporary and antique, written with the amusement of some young friends principally in view.
Structured as a choose-your-own-fable, these stories are all referenced by a central index map. At the end, have a conversation with Merly the Mermaid, who will answer your questions and talk with you about the particularly dangerous pickle she's in!