the hats were out, on gun patrol, cursing the pissing rain, studying at their watches, trying to do their job. just out of sentiment i walked casually over to the west base but didn't see much of a method in. on the north side i saw a service entrance which i stood by. i smoked a cigarette and waiteduntil the door opened, and the man with the trash walked out to empty his stuff. i nudged a stick across the floor which jammed the door before it closed. i gave it a minute or so then slipped in, all bond, james bond.
it took me almost two hours to get to the top. this involved some several thousand steely stairs, cold rain, pushy winds and a bleary reluctance to recognise that no matter how much i tried to do my little game, i was ascending a building that had no roof.
i went up anyway, just to see, and saw:
when i got done, i found a little door and on the other side there were two guys there looking at a camera. they got into an elevator and went down. that seemed like a good idea to me since my fingers were numb. i figured they were tourists and that maybe the tower opened earlier than it used to. so i waited until they left and tried the door. it opened and then locked (the first door i think i've seen that only had locks on the inside). there were a couple of people cleaning so i decided to walk around like i was supposed to be there. maybe i was because i walked around and they all smiled at me. then, when i asked for someone to come get me in the elevator, they gave me a phone number. i called it from a phone mounted on the wall. a man came in the elevator and the door opened. i got in. we went down together. he didn't say a word until i got out of the elevator and he wished me a good day.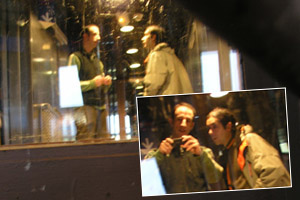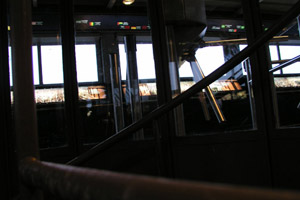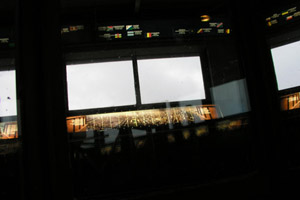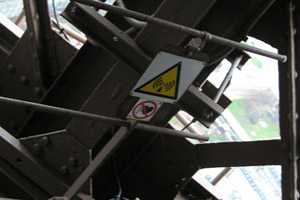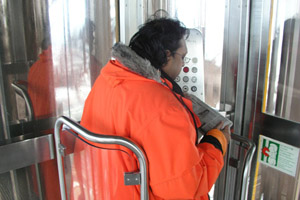 they all seemed to know what i was doing, and they all seemed happy to help me do it.
the eiffel tower will always be a kind of home of mine, it seems