Western United States, January 18-21, 2005
it took three days to hitch-hike and take busses from los angeles, california to denver, colorado. in oakland i picked up my old friend, heather, and from NorCal did a total of about 1200 miles / 2000km, racking my total number of hitch-hiked to about 12 times that amount.

the trip became a concerto; the rhythm of the rides was punctuated by engines and the snapping broken lines of the highway; the chords of generosity and open space built a strange american harmony; but in the end, the melody was melancholic, the key was minor, and the chorus sang sorrowful songs of lost loves, boredom, war, children, and mortgages.

despite this sad song america sang, i'm pleased to write that the people i met were kind and considerate.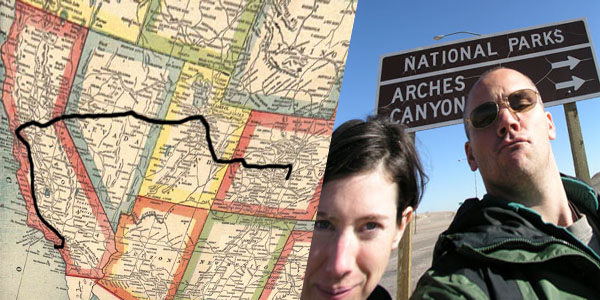 HEATHER and i met over a decade ago, in school, and our esposas were engaged in other misadventures, and she and i both needed to get some fresh air. she had just finished her thesis, i was wrapping up several writing projects, and thus a large number of aligned stars threw the two of us on the road together.

i took a bus to oakland, simply because there is no harder place in the world - at least not by my experience on four continents of hitch-hiking - to catch a ride than between LA and SF. the entire trip would be set back by over a week if i were to attempt this mistake.

i left the driving to greyhound and met heather at the oakland station.

we both carried a small backpack. it's important to travel light, especially when hitching rides. you have to be able to run (towards the car when it stops, i mean). heather had long underwear and gloves. i didn't and would come to regret this oversight.

this was how it began.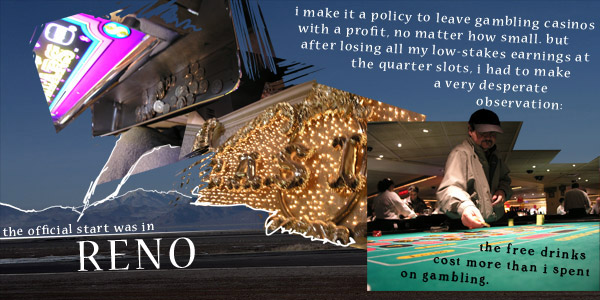 drunk, no less broke, and full of chicken fried gambling, we walked out to the highway and stuck out the thumbs. a black SUV pulled over in about 15 minutes.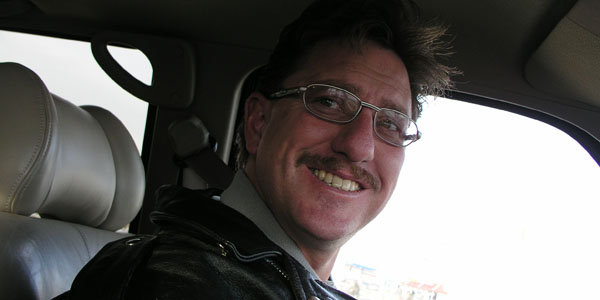 JIMMY installs electronic systems to existing heating systems in casinos in reno. a few months ago he slipped on some ice and tore the ligaments behind his knee. he says it was a freak accident, but it's been recurring on a monthly basis. each time the ligament is almost better he tears it again.

there has been corporate consolidation in his company, so even though he sells more installations and electronics systems than anyone else he's about to get laid off.

to make matters worse he's "trusting in god."

the longer i look at his photo the less nice he seems.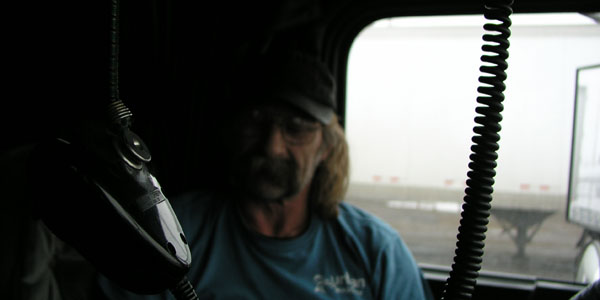 RIP owns a '64 Falcon convertible with a factory V8 4-barrel 302 hi-rise. he also owns three red 1989 le barons (one of them is for parts only) a burgundy '84, an '86 dodge 600 convertible, (that's in pieces), an '83 mustang convertible, a '65 ranchero, 3 ranger pickups, an '88 2-wheel king cab (and a second for parts), an '83 xlt, two aerostar vans (one '86 and one '89), two mazda pickups ('86 and '90 - both with extended cabs and factory mags), a 1970 3/4 ton chevy pickup, an '85 ford ranger 4 wheel drive, and a 1932 durant. the durant, by the way, was only built between 1921 and 1932. he has a '69 fairlane (the 2-door hard-top model) with 2.9 intake valves and 351 clevelands.

after reciting this list we smoked a bowl and laughed about boats, love, and music.

rip's been driving a truck for 33 years. he doesn't much care for the new generation of drivers.

he went to vietnam on two tours of duty. after that he got caught up in heroin for a few decades. he went into VA rehab to clean up and told us that, "a couple of guys were into throwing beer cans in the corner. they liked it. i didn't like it." eventually he and his 'Old Lady' moved to olympia washington where they bought almost two acres of land. he keeps his cars there.

his wife died in 1987. he hasn't started his '65 ranchero since that day.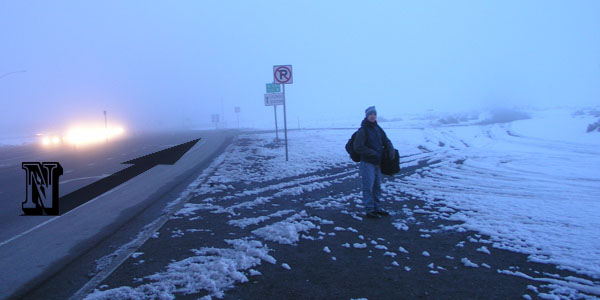 rip dropped us off at an intersection in the middle of a desert. but it didn't look like a desert.

it was as cold as a dead deacon's dick and the hesitation and confusion of fog descended on us and since no one could see us from a distance, no one stopped, and we eventually gave up for the night. i was glad we could afford a motel. and i was glad that there was one only a mile or so away.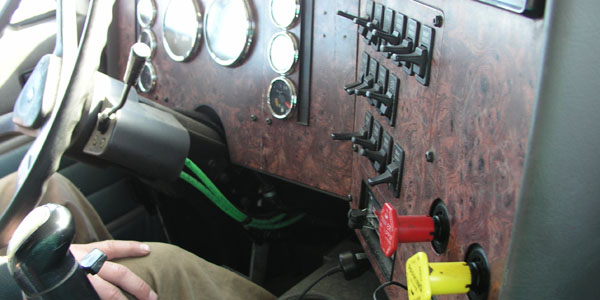 ROBERT comes from a military family. he has three brothers as officers. a fourth works as a special ops guy serving in iraq. he also has a cousin that's working as a black hawk repair mechanic in afghanistan. his great-grandfather, grandfather, and father all served. he has mixed feelings about the war in iraq. he used to be in the military, himself.

when he was 17 the gulf war had just started and that was what motivated him to pull on his father's boots. he wanted to go to kuwait, but they sent him to germany to drive a truck. he could shoot straight, but he had glasses. apparently, to kill someone you can't wear lenses.

he stayed in for several years, driving a rig in virginia, hoping to collect college money. but instead of going to college he had three kids and got divorced.

he's been driving between reno and salt lake since then and says that it's kind of boring, doing the same strip of road so many times. he smokes doral menthols and doesn't like to have his picture taken, but he has tattoos. he's a nice guy, who's not yet 30. he has a long beard and a steady eye. he hasn't found a woman.

we talked for over eight hours.

he dropped us off and suggested we head over to a nearby truck stop.

robert is a good guy. he does his best, but is limited.



			

it had been cold at noon, and the sun had set an hour ago, so we wander over to a flying J truck stop and stand around in front asking people if they're going to denver. we do this for 4 1/2 hours. finally, the people that work there start to take pity or curiosity and melissa, the girl that works at the counter, is telling people that we're looking for a ride to denver. our hopes rise.

an hour or two later, after many more cups of tea and hot chocolate and jumping around with our breath seeping into the cold air like the deisel fumes from the trucks, a short, hephaistos-like driver with bent legs, a belly, a beard, and a hat that said "Team Jesus" gets on his radio and makes a call for someone to come get us. that someone was about 10 miles out and "They'll be here in about 20 minutes or so. Yer all set, kids."

we start watching each truck come in, as if it's a boat to take us from an island. we've been stranded.

an hour or two later my feet are getting numb and no one has come, so we check into a motel 6. it costs $55 for a shitty room that stinks like cleaning detergent, is painted beige, has cum-stains on the sheets, and a neon light that says "Rodeo" as bright as a small sun immediately outside the window.

but i'm glad to be out of the cold. my blood is still thin from india.

i sleep horribly in the dry climate, and dream about a dragon, and a small onyx effigy that allows me to control that dragon.

someone breaks its wing off, and it flies away.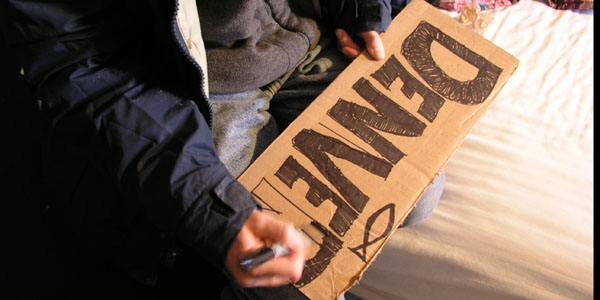 people in these parts don't like folks that are different from them. this is, after all, near the center of the united states. secondly, people like to know what to expect around here. like cows, they're easily startled. so we decide we need a sign that will tell them both where we are going, and who we are.

"DENVER" and with the little christian fish sign, seems appropriate. neither heather nor i are christians, but this makes the little fish sign all the better since it was originally a symbol to avoid persecution. of course we think we're quite clever, but nobody mentions it and nobody mentions God, either.

since it's early morning of the next day we go to the lobby of the hotel to collect our "complimentary continental breakfast." the television is reporting on explosions in iraq and the upcoming elections. near the TV, waffles, and weak coffee, we meet Roger. he's from denver and has a business in playground surfacing. he's selling, for all intents and purposes, Flubber. he's headed back to denver in a few days, and he offers to give us a lift, but we tell him that we should be finished by the time he's ready to go, thank you, so we take his cell number anyway, and leave.

we walk up the ramp and hope that cops don't see us because hitch-hiking in utah is illegal. in fact, many things in utah are illegal. it makes life in this place as bitter as the lake nearby.

the next four residents of this great desert named utah, the next four rides that take us away from salt lake city, are all people that want to leave the state as soon as they can.

maybe they stop for us because they want to move. maybe we represent a vicarious departure from the place, a momentum for them.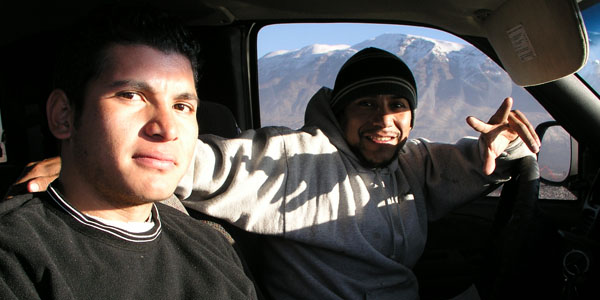 JESSE (on the right) was born in mexico city and has a three year-old son. he's been here in the US for 11 years. roberto, who doesn't say a word, is his friend. Jesse likes the simple life. in mexico he likes it because all of his neighbors say hi and talk to him all the time, and ask him about his job and his girl and his baby, but here in salt lake city people don't talk as much. he's noticed that he's not talking as much, either. in fact, just this morning, he went out, warmed up his car, got in and drove right by his neighbor that he didn't even wave to. as he explains this he doesn't seem too pleased with himself. he says, "it's just the way things are around here."

when he first got to the states he worked in paso robles for a while but, coming from mexico city, it was too "dull" - he was used to the urban life. so he moved to fresno for a couple of years where he had work planting trees. he got paid eleven cents per tree. on a good day he could plant 800 or 900 trees, but many people that he worked with could only plant one or two hundred. these days he works construction, roofing houses.

he says he'll probably move back to mexico some day. his dream is to open a business there. "not something big, just big enough to get by."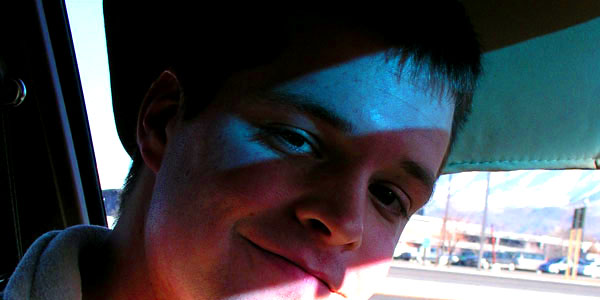 AUSTIN is a rock climber and a scholar. he's studying to drive a tour van in alaska this summer. he suggests that heather and i jump the trains that come through town. he knows a guy that rides back and forth across the US that way and makes it from san fran to new york in two or three days.

austin has lived in utah his entire life and wants to leave as soon as he can. he looks full utah, classic america, sturdy and a little shy. he has long mandolin fingers and a sly mouth. he drops us off at a stop that he once stood at, trying to hitch a ride, for nine hours.

a nine-hour wait is foreboding news. we look for something to do.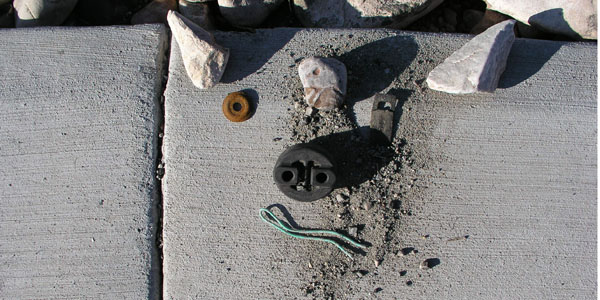 48:1 And it came to pass after these things, that the PIG-GOD provided; and he gave unto HEATHER the gasket of the nose.

48:2 And HEATHER said, Behold, thy god has arisen, and she held the pignose high for all to see.

48:3 And thus the work to celebrate the beauty and the majesty of the PIG-GOD was concluded in the time it had begun.

48:4 And then those celebrating the might of the PIG-GOD waited for the short time of ten and twenty minutes.

48:5 And the PIG-GOD said unto them, Behold, a car has answered your supplications. You shall leave me behind: but I shall be with you, and bring you again unto the land of your fathers.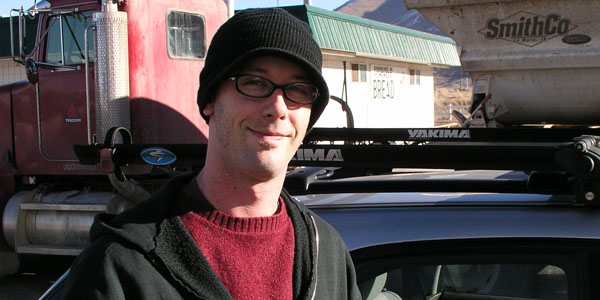 SPENCER has a phlegmatic voice and a circumspect nature. he's finishing his two-year degree in fine art and in a few weeks he's headed to the pacific seaboard to visit his friends. he wanted to go to europe, but the dollar is too weak against the euro and he doesn't think he can afford it. plus he has friends from LA to seattle, and everywhere in between so the minute he wears out a welcome he's only an hour's drive away from the next sofa.

he's a painter and wants to make a living as a professional artist. his art professor made a rather negative impression on him by suggesting that he, "go for the money." he turns to me and asks my opinion and i give him the wrong answer. he needs me to say something specific to him, something like "that's fucked up" or "don't pay attention to that stuff," but i don't, because i can't right the wrong that had happened, nor is it my job. i tell him to stick with his dreams.

spencer also wants to leave utah as soon as he can. he drops us off a good five miles down the road from his exit, just to make sure that we're on the right road, and maybe in part because he wants to go that direction, too.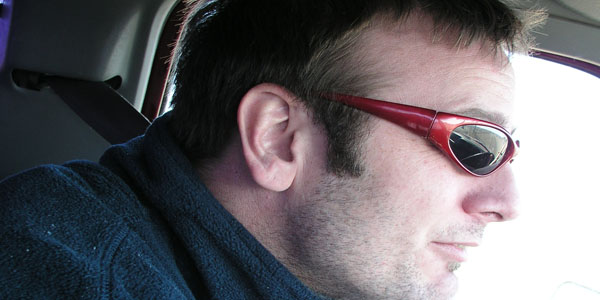 MICHAEL is leaving utah. he was born in new york, raised in florida, then moved to utah, new mexico, and back to utah. he sold weed for a while, made some money, opened a pizza parlor named Mateo's and partied for several fun and profitable years. after a while he got married to a party girl named jen. jen is "LDS" (Latter Day Saints) but jen's family is pretty tolerant, even of druggies. michael may as well have been born again christian, because when their son nicholas was born, michael changed.

just after the baby was born, after years of party, they moved into a home that jen's parents owned. it had a bit of a curse on it. apparently, before they moved in, there was another couple living there and that couple got into a fight one day. the husband yelled at the wife, who ran out, and then he took a chainsaw to the furniture, walls, floor, ceiling, etc. in a kind of sustained rage he went to the gas station, bought some jerry cans, bought some gas, drove home, splattered 30 gallons of the stuff around the house and even went to the trouble of putting gas in the light fixtures so that when the wife came home and turned on the lights the house would, theoretically, ignite into one, big, deadly bomb.

in his exhaustion the husband passed out from gas fumes and fell asleep on the floor. he'd been up all night. that afternoon the wife came home (and did not turn on the lights because the sun was up), the trap was never sprung, and these days the husband is out of jail. but just after this happened, once the house was fixed up, jen and michael and their son nicholas moved into the house and their problems arose. things were tight, but jen's parents offered them a pretty good deal. unfortunately, it smelled wrong. it smelled like gas and michael refused to move in. jen insisted, michael obliged, and a few months later things seemed okay. but then some neighbors moved in, they fought, there was a murder, drugs, etc. new neighbors moved in and the cycle repeated itself.

during these storms michael was trying to earn enough money for the family. he worked as a waiter, out all day serving people their food. the agreement he and jen made was that she would take care of the house and he'd take care of the money. but when he'd come home he'd have to serve himself food, too, and this didn't work out. so fights began.

dodgy neighbors, problems with partying, and the occasional extra-marital affair that jen had eventually helped entice them down the road to divorce. michael is a little concerned about his son being with jen, and jen is now pregnant by another man (or it may be michael's child; he's waiting to find out), so michael is now working with his dad in new mexico. he's busy cleaning up his life and getting things together so that he can take custody, or at least partial custody, of nicholas. he's been waiting tables. he says, "having a kid is the best high in the world." he looks at me, serious, and commands, "have kids." he shows me a picture of nicholas.

"after a fourteen hour day, when your puppies are tired, and this little guy runs at you with that smile... best thing in the world."

i'm not ready to believe him. as doug stanhope puts it, "babies are like poems. they're beautiful to their creators, but to everyone else they're silly and fucking irritating. keep the picture in your wallet."

michael doesn't want to have sex with women these days. he spent the last month depressed and lying in bed.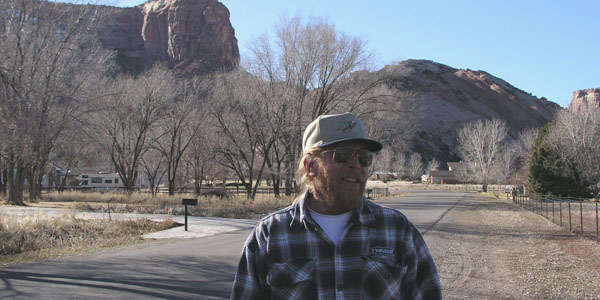 RAOUL and his old lady were forced to evacuate their house in california last winter. the fires didn't burn the house down, but it motivated them to sell the house and move to colorado. his wife had wanted to live in colorado for a long time. they now live in a house at the base of the colorado national monument, just next to the golf course. luckily, in his freshman year in college he took golf as part of his physical education requirements.

raoul was born in california, and at 14 he and his family moved to huntington beach, away from the cows and oranges, and he became a surfer dood. nowdays, whenever he goes back there, he sees it as "a different world I don't understand." when he was 19 he spent nine months living out of an old dodge van. he had a motorcycle in back. he would stay with relatives and after a couple of weeks they'd send him back on the road with an armful of sandwiches and an address further down the road. then, in the 70's, he did what most hippies do, and had some fun moving shipments from colombia or peru back up to the US. a friend of his sailed 70kg of cocaine up to the united states and then retired. raoul never went that route, as he's a carpenter, but he did have some good adventures down south and he's seen most of central and south america.

when he got married his new wife had two kids from a previous marriage. her ex-husband wasn't paying child support, so raoul supported them all with his carpentry. now his parents, his wife, and three of his kids, all live in grand junction. that seems a fine thing, to me; to have everyone living in the same city. his daughter, however, lives over in denver. she goes to ballet and concerts and says she likes denver. raoul grunts at this, saying, "She can keep it. cities kill me."

he asks where we'd like to go and we answer "a good, local mexican restaurant" so he drops us off at the taco bell.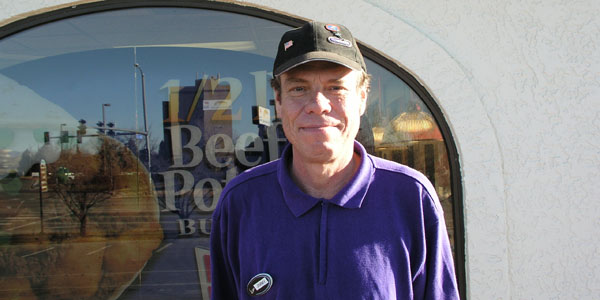 JIMMY works at a taco bell just off the highway in grand junction. on september 9th he was hitch-hiking to california from ohio. he had enough money for a taco (no more) and when he walked into taco bell, he noticed that they were accepting applications for work. so he filled the application, passed the "attitude test," got the job and he's been here since. he laughs a lot and has seen every state in the union.

this story is related while i'm eating my own taco. jimmy comes up and hands us cups so we can get drinks at the fountain, so i get my coke and heather gets her lemonade. then, at the end of the meal, he also gives us two hot apple pies, saying, "no taco bell meal is complete without dessert."

jimmy's a grand man. it's impossible to tell how old he is.

he deserves to do well.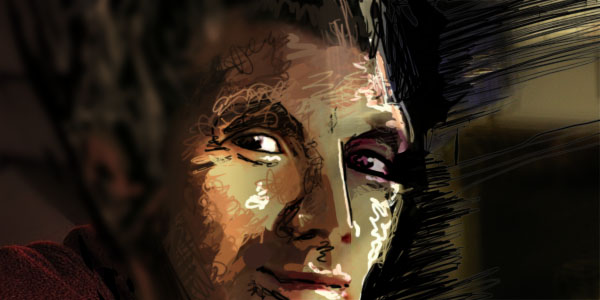 MERLIN has just come from where i'd come from. he lives about a 5-minute walk away from my boat in los angeles. he has driven through the night, over the mountains, and under the same moon, along the same road. i can't tell what is a coincidence any more; people are too important to me.

he pulls over in a big, black truck, with fancy electronics. he is our last leg into denver.

merlin has been working as a video artist for the industrial band skinny puppy. his job was to make the pretty pictures behind the band. the job came as a bit of an accident. he was doing a favor for a friend who asked if he'd help out driving equipment around. he said sure, then he got a call to help with the show itself. it was "trial by fire." he was flown into NYC and given 5 hours to learn what had taken the old video artist three months to build, and while his head was still spinning the show started. it went flawlessly. after the show, the lead singer, a producer, and a video tech came up to him with smiles. the singer said "flawless show" and threw his arms around him. it was another 12 hours before merlin could wrap his head around the fact that he'd set the bar pretty high for future shows. and so began 18 months of black alleys, black stages, and - if you're lucky - no stairs. it sounds as if the music industry is mostly shitty work.

he's matriculated in a PhD program - theoretical psychology - that starts in september. this leaves just enough time to collect some adventures before going back to school. the itinerary is as follows: Denver, San Francisco, Los Angeles, Chile, Costa Rica, Nicaragua, Los Angeles.

this is mostly a surfing trip. he'll take a shoulder-bag and his board.

merlin's an interesting bloke. i think he inherited money. he's as comfortable rambling off car specs as theorizing about psychology and non-pathologizing neospiritual workshops. i felt a strange affinity to him. he's a few years younger than me, but there was something in him that seemed familiar, and even respectful. maybe it was the fact that he, also, grew up in colorado and was now returning after visiting over 40 countries. or maybe it was that he seemed a bit pissed off, or maybe it was just that i was glad to have a ride into denver.

between trying not to inconvenience him, looking for a bus stop, and being generally excited about finally getting into denver, i neglect to take a photo. this illustration is honest, if inaccurate.

tomorrow i go to a small cottage in the mountains. i'll return to los angeles in a week or so after i get some work done. i might hitch, or take a train (as austin suggested), or maybe i'll just rent a car, or take a plane if urgency necessitates. i don't want to get on a plane though.

i haven't been in the same city for more than a week in several months, now, and i feel tired from travelling.

but not as tired as america seems to feel from other things, less lively. for this i am lucky, and thank what gods i can.