Those people last night made sense to me, and not just cause they're from my home town (as it were). Theyíre surrounded by robots, too. I wonder if maybe violence and sex are just places we go not because weíre an empire and we like warfare in our media, but because fistfights and titty contests are where the robots canít find us.

Fuckin' and fightin' are the sacred and final frontiers of the truly human existence.

We humans are programmed that way. And in places like Colorado, and other industrialized frontiers of automatic culture, the robots help keep it that way.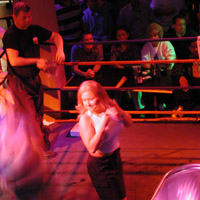 Note: though the events are acurate to (as we say) the best of my ability, they did not all happen on the 28th. i was in colorado springs on the 28th, but these events were actually from a previous trip, during the summer.