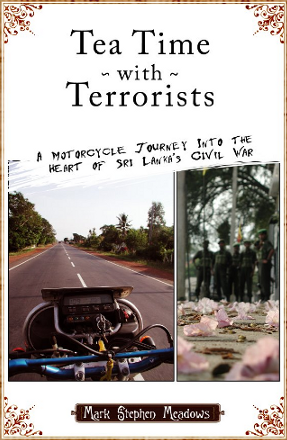 ---
"Armed with a map, a motorcycle, an infectious sense of humor, and a dim understanding of Sri Lanka's war, author, artist, and explorer Mark Stephen Meadows arrives there intending to have, as it were, afternoon tea with terrorists. Figuring that the first step to solving a problem is understanding it, he journeys north into the warzone, interviewing terrorists, generals, and heroin dealers along the way.
"He discovers an island of beauty and abundance ground down by three decades of war. As he travels north through Colombo, Kandy, and the damaged city of Jaffna, Meadows gives his riveting take on the war. Known for child conscription and drawn out torture methods, he explains, the Tamil Tigers also invented suicide bombing and were the first to lace together terrorists and financiers into international networks of militant uprising.
"In Sri Lanka, Meadows discovers a deep view into an ancient culture. Along the way, he learns to trap an elephant, weave rope from coconut husks, cast out devils, and he actually has tea with a few terrorists. This is the inspiring story of his journey and an enlightening meditation on the interconnectedness of globalization, the media, and modern terrorism."